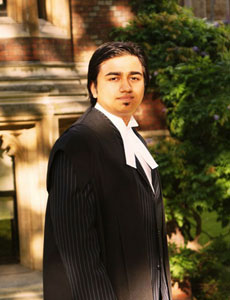 MAHIN M. RAHMAN
LL.B.(Hons) (University of London, UK)
Barrister-at- Law (Lincoln's Inn, London, UK)
Advocate, Supreme Court of Bangladesh
CONTACT
Cell :  +880 1711 059905.
Email :  mahin@legal-reliance.com
Mahin M. Rahman Admitted by Bangladesh Bar Council in the year 2010 and permitted to practice before the Hon'ble High Court Division of the Supreme Court of Bangladesh in the year 2013.
Practice Areas: Constitutional Law, Company Law, Banking Law and Civil Law
 Business Litigation (30%),
 Constitutional Law- General (40%)
 Civil Law (30%)
Mr. Rahman's practice primarily focuses on litigation that pertains to Constitutional Law, Company Law, Banking Law and Civil Law. He also takes active participation in purely complex corporate affairs such as acquisition, merging, syndication, multiparty agreements and foreign investments. Mr. Rahman's expertise in both litigation and corporate affairs is a rare combination that serves better interest to his clients. The clients Mr. Rahman has represented include individual citizens, state owned corporations, local businesses, foreign investors, corporations.
Mr. Rahman worked as an associate of the Legendary Senior Lawyer Late Khandkar Mahbubuddin Ahmad from 2008-2012. He joined Legal reliance as an associate in 2012 and is now a partner in the firm. He can be reached personally at mahinrahman@hotmail.com & +880 1682 777777 and +880 1711 059905.
Mr. Rahman's favourite quote :  "The Costitution only gives people the right to pursue happiness. You have to catch it yourself." – Benjamin Franklin