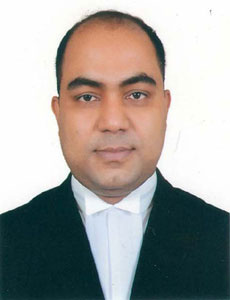 KAMAL HOSSAIN MEAHZI
LL.B.(Hons), LL.M.
Advocate, Supreme Court of Bangladesh,
High Court Division
C
ONTACT
Cell :  +880 1712939840.
Email : kamal@legal-reliance.com
Kamal Hossain Meahzi Admitted by Bangladesh Bar Council on 17.01.2008 and permitted to practice before the Hon'ble High Court Division on 08.02.2010.
Practice Areas: Business Law, Constitutional Law and Civil Law
Mr. Meahzi's practice emphasizes the litigation that pertains to Civil Law, Constitutional Law and Business Law as well as related banking laws, insurance laws, securities laws and company laws-an unlikely combination that fits Mr. Meahzi's style. The clients Mr. Meahzi has represented include local business, foreign investors, corporations, both creditors and lenders.
Mr. Meahzi graduated from University of Chittagong. He is also a partner in his firm. Mr. Meahzi can be reached at meahzi.law@gmail.com & +880 1712939840.