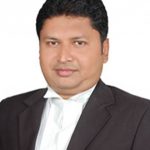 K. DIDER-US-SALAM
LL.B (Hons) (UK)
LL.M (International Commercial Law) (UK)
Advocate, Supreme Court of Bangladesh
CONTACT
Email : dider@legal-reliance.com
Diploma in Law, University of London, London, UK
LL.B. (Hons.), Northumbria University, Newcastle, UK
LL.M. (International Commercial Law), Northumbria University, Newcastle, UK
Admitted to the Bar of Bangladesh in December, 2009
Permitted to practice before the High Court Division of the Supreme Court of Bangladesh in September, 2013
CEDR Accredited Mediator
  BRIEF PROFILE
Mr. Khandker Dider us Salam has completed his LL.B (Hons) from Northumbria University, Newcastle, UK and LL.M in International Commercial Law from the same university taking The Law of International Trade, Carriage of Goods by Sea, E-Commerce Law, International Dispute Resolution, Law and Professional Practice, Legal Research in Commercial Law and a Project on E-Commerce Law in UK as his core subjects.
Mr. Dider us Salam was enrolled as an Advocate on 08.12.2009 and since then he has been practicing regularly in the District Courts of Bangladesh. He is a member of the Gazipur District Bar Association and a regular practitioner of the Dhaka and Gazipur Bar.
 Mr. Dider us Salam has been associated with Legal Reliance and engaged in the Legal Profession since 2007. He is specialized on Company matters, Constitutional matters and Arbitration.  
Mr. Dider us Salam is also a faculty member of a private University in Bangladesh namely Daffodil International University. He teaches Business Law, Contract Law and Alternative Dispute Resolution at the university.
Mr. Dider us Salam obtained permission to practice before the Hon'ble Supreme Court of Bangladesh in 2013. He has keen interest on Alternative Dispute Resolution and he is also a Centre for Effective Dispute Resolution (CEDR) accredited Mediator.
 PRACTICE AREAS
Corporate (Legal Documentation, Finance and Regulatory matters)
Constitutional matters
International Trade
Arbitration law and practice
Commercial & Transactional law
             NOTABLE EXPERIENCES
          The following are some of the subjects/matters I have litigated/advised upon: 
Challenged the Mobile Courts Act, 2009 of Bangladesh as being unconstitutional.
Challenged Article 19 of the Representation of the People's Order, 1972 of Bangladesh which allows a lone contesting candidate to be declared elected unopposed without a single vote being cast in the National Parliamentary General Elections as being unconstitutional.
Conducted many cases before the High Court Division of the Supreme Court of Bangladesh involving issues pertaining to service related laws and labour matters;
Acted for companies and individuals against banks in money recovery cases;
Acted for companies in cases involving issues relating to change of objectives in the Memorandum of Association of the company and also for condonation of delay in holding statutory meetings of the company and permission to hold the same;
Advised several companies on merger and acquisition proceedings, setting up international joint venture companies, implementing different projects under international financing arrangements;
Acted in several cases before the High Court Division of the Supreme Court of Bangladesh in its appellate jurisdiction involving breach of contract;
Acted in several domestic arbitrations involving contractual disputes. 
MEMBERSHIP IN PROFESSIONAL SOCIETIES:
 Gazipur District Bar Association, Bangladesh
 Bangladesh Bar Council
 Supreme Court Bar Association, Bangladesh
 Center for Effective Dispute Resolution (CEDR), UK