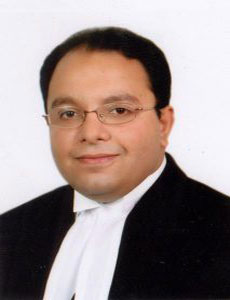 HASSAN M. S. AZIM
LL.B (Hons) (UK), LL.M (UK)
Barrister-at-Law
Advocate, Supreme Court of Bangladesh
CONTACT
Phone:+88-029890961
Cell : +88-01971822457
Email: hassan@legal-reliance.com
Mr. Hassan M. S. Azim is the Managing Partner of the firm. He obtained LLB (Hons) in 1997 from Thames Valley University (now University of West London), UK and LLM in Corporate and Commercial Laws in 2000 from London University, UK with special emphasis on Insurance and Marine Insurance Laws. He trained as a barrister-at-law and upon successful completion of the Bar Finals Course with an outstanding performance, he was called to the Bar of England and Wales by the Honourable Society of Middle Temple in the year 1999. Later, he was enrolled as an Advocate with Bangladesh Bar Council and was also permitted to practice before the High Court Division in the year 2002 and the Appellate Division of the Supreme Court of Bangladesh in the year 2015.
Mr. Azim is amongst a limited number of lawyers who are permitted to practice at the Apex Court of Bangladesh. He started his career in the legal profession as an associate of the legendary lawyer Barrister Mainul Hosein, Senior Advocate and as a part-time lecturer of law at Bhuiyan Academy. He has since been involved as a lead Counsel in various landmark cases that has greatly contributed to the development of the interpretation and application of laws in Bangladesh. Mr. Azim is one of the few lawyers to have expertise in both the areas of litigation and corporate practice. He specializes in Judicial Review of executive actions as well as Judicial orders and proceedings, Corporate and Commercial Laws, Admiralty and Maritime disputes, Gas related disputes and Arbitration matters.
Mr. Azim takes active interest in academic research and writing and has a number of publications in various journals. He has delivered speeches as keynote speakers at various seminars and legal workshops. He has filed several Public Interest Litigations before the apex court in its writ jurisdiction which were very successful and widely acclaimed.
Mr. Azim endeavours to lead a team of lawyers and other professionals to provide a one stop quick and quality service to the firm's clients.